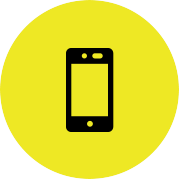 1. Request your ride
Choose to ride now or schedule one for later. Just set your pickup details and tap "Request Ride" to place your order.
2. Get picked up
With live arrival updates, you'll know exactly when to get going. Our experienced drivers will be ready outside.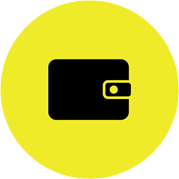 3. Pay with options
Pay with mobile pay one day and cash the next. Choose a payment method before requesting your ride and enjoy the flexibility.
Rates and Discounts
Rates
Base Fee
$2.85
Per Mile ( .30 cents every 1/9 mile)
$2.70
Only if in traffic or cab waiting:
Per 37 Secs
$0.30
Per Hour
$29.19
Discounts for Los Angeles Area
$15 Off First App Ride

Restrictions apply

Details

Enter promo code "HELLOLA". $15 Off First App Ride. Offer valid only when paying with a stored credit card in the RideYellow app in Los Angeles area. Promotions cannot be combined.
Some of our Favorite Places in Los Angeles
Griffith Park

– This famous urban oasis is on the outskirts of the city featuring hiking and equestrian trails, plus city views. The Griffith Observatory is the top destination at Griffith Park because of its easy access/ parking plus its panoramic view of all of Los Angeles. Also, don't forget to look up at the Hollywood Sign while you are here. If you have enough energy you can follow the trail up to the famous Hollywood Sign and experience the best view of Los Angeles.
Hollywood Boulevard

– The iconic boulevard of stardom. This stretch of road is the cultural pinnacle of Los Angeles. Once can come here and see a little bit of everything that Los Angeles has to offer. There is so much to do on Hollywood Boulevard: the Walk of Fame, countless shops and places to eat and numerous museums to experience LA culture.
The Getty Center

– The Getty Center is a sizable free museum that features the art and architecture of America and Europe with paintings from the middle ages. Not only does it have art, but its gardens and views are some of the best that Los Angeles has to offer. You just need to pay for parking.
Why Use RideYellow in Los Angeles?
RideYellow is the seamless taxi booking app that services Los Angeles. RideYellow is perfect for when you need to schedule a taxi in Los Angeles for either now or later. RideYellow is powered by Los Angeles Yellow Cab in the LA area, meaning that we utilize the best taxi service provider in all of Los Angeles. We have local trusted taxis with your choice of sedans, minivans, SUV's and Paratransit vehicles that all provide the best taxi service, Los Angeles. All of our taxi partners are local, trusted and certified by the city of Los Angeles and even able to pick up from Los Angeles Airport. Our wide variety of vehicles allow you to plan the perfect business trip, family getaway or Airport transfer with a Los Angeles Taxi. The RideYellow rates are fixed – it's hassle-free and all-inclusive.
Things to do in Los Angeles