Since 7/11 day has people raving over free slurpies at 711, we thought it would be nice to let you in on some the best Los Angeles freebies.
Los Angeles holds a special place in our hearts, with it being the first area that we launched RideYellow. It is no secret that we know a thing or two about the City of Angels.
Of course, it wouldn't be an article about freebies in Los Angeles if I didn't mention that you can get $15 off your first ride in the RideYellow app. That way you won't have to waste your gas or your money when you go out freebie hunting.

Catalina Island
If you haven't been to Catalina Island before, when's a better time them on your birthday? Catalina is on of the best retreats that you can take to unwind and live on "island time". The views are amazing and there is much to do like, hiking, cruising, snorkeling, and sailing. You can sign up for your birthday trip to Catalina here.
Free Birthday Breakfast
Your birthday should be the day to not only be treated by your loved ones, but you should also treat yourself. Next time your birthday rolls around head over to either Denny's or IHOP and get your free breakfast meal. If you go to Denny's you can build your own Grand Slam, while at IHOP you get a free breakfast meal. As a side note, we should also mention that most places offer a free dessert on your birthday, so be sure to let the restaurant know.
Free Museum Day
On January 29th, every year, the SoCal Museums group does the free museum day. A large list of participating museums opens their doors for free to let everyone in on what they have to offer. If you want an updated list so you can plan ahead of time check it out here.

Kids Bowl For Free
All summer long the Kids Bowl for Free website allows you to register your children to get 2 free bowling games. There are only a select number of bowling alleys in Los Angeles that participate in the program so go to their website to get an updated list and to sign up.
Free Art Exhibits
The two best art museums in Los Angeles open their doors to the public, for free, on select days. The LACMA has free general admission on the second Tuesday of every month. The Broad, on the other hand, is free every day, but general admission tickets are often fully booked. Check out their advanced reservation portal to try to plan your trip ahead of time, or you can test your luck in the onsite line outside the museum.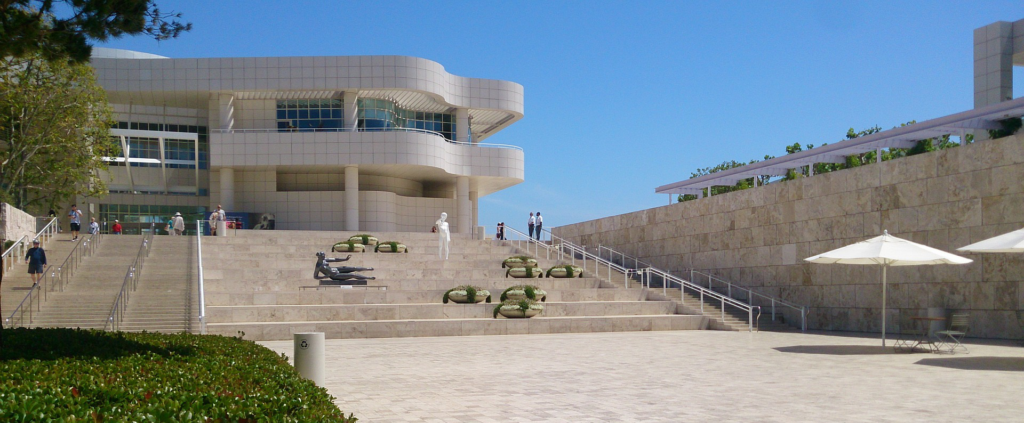 The Getty Center and Getty Villa
The Getty Center and Getty Villa house some of the most expensive art in the Los Angeles area. The grounds of both museums are known for the wonderful architecture, art, views, and gardens. It would be a no brainer to come check out what these art museums have to offer. The best part is that it is free to enter. The only cost you have is for parking, but if you have a ride to drop you off if could be free.
Free Music
The Amoeba Music store in Hollywood hosts free concerts from time to time. You can listen to free live music from almost any genre, all you have to do is look on their site for an upcoming show that you think you might like.
Free Samples at Santa Monica Farmers Market
It is known that one of the best Farmers Markets in LA is located in Santa Monica. Every Wednesday and Saturday mornings on Arizona Ave. and 2nd St. you can stroll the market and browse the selection of produce and local foods. If you want to try some samples before you purchase your produce you could get a quick free snack, while you are there.

Twilight Concert Series
Every summer the Sana Monica Pier hosts the Summer Tunes at the Twilight Concert series. During these hot summer night it might be a good idea to cool down by the beach, every Thursday, to listen to live music. If you have ever been to the pier before, you might remember that parking can get pricey, make sure you download the RideYellow app and use your $15 ride credit.
Free Yoga
Just at the Southern edge of Los Angeles rests the city of Long Beach. On of the best freebies in Long Beach is free yoga at the Bluff. As a part of a service to the community, the Yogalution Movement offers free yoga classes once a day every day at the Bluff Park. You can grab your friends and unwind as you do Yoga while overlooking the Pacific Ocean.
There are far too many freebies to list, that are offered in Los Angeles. If you want a large list of birthday freebies, we suggest you check out this post by CBS Local.
[wd_hustle id="blog-email-widget"]