St. Patrick's Day happens to be a big celebration in Southern California. If you want to unleash your Irish spirit, but you don't have any idea on what you want to do we have something on this list for you. Without further ado here is your guide to fun for St. Patrick's Day in the Los Angeles area.
In This Post

Festivals
Casey's Irish Pub Street Festival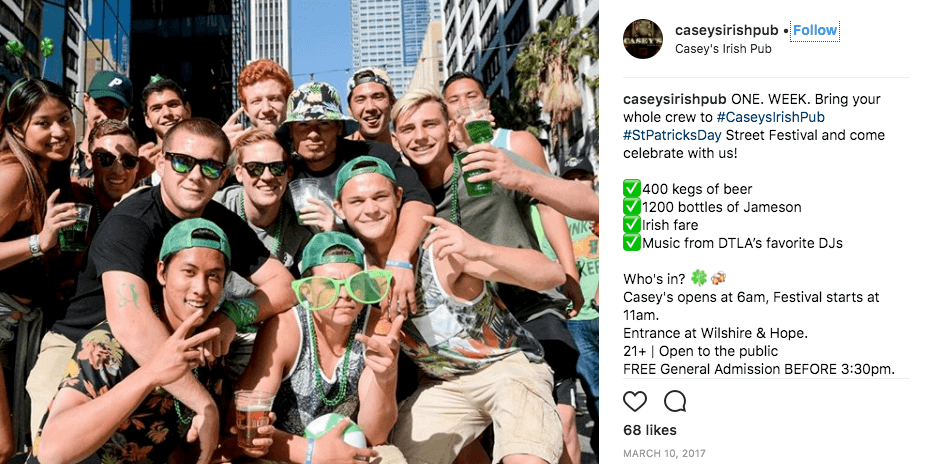 Casey's Irish Pub throws the craziest and biggest St. Patrick's Day celebration in Los Angeles. The pub closes off an entire block outside and throws a street festival full of Irish beers, music, food, and festivities. If you find yourself at the festival, stop by the RideYellow lounge and come hang out with us, we will have fun games and giveaways for everyone attending the event. 613 S Grand Ave, Los Angeles, CA 90017
Rock & Reilly's St. Paddy's Day Party
Rock & Reilly's shuts down the block for the 7th year in a row. Celebrate the luck of the Irish with DJ's, food, games and over 100 kegs of green beer. The proceeds from the event will go towards the Merging vets and &Players cause. 8911 Sunset Boulevard West Hollywood, CA 90069
Pig 'n Whistle St. Patty's Beer Fest
Hollywood's famous Irish Pub is throwing a St. Parick's Day event with live Irish Bands and DJ's that will surely get your Irish spirit pumping. There will be $2 Bud Light pints, $4 Guinness Pints, $4 shots of Jamison and 2 for $6 Well Drinks from 5 pm – 11 pm. 6714 Hollywood Blvd, Los Angeles, CA 90028
Tam O'Shanter's: St. Patrick's Day at the Tam

Come to the Tam for a day-long celebration of Irish spirit. There will be a part tent, live music and much, much more. The event starts at 11 am and ends at midnight. 2980 Los Feliz Blvd, Los Angeles, CA 90039
Party Cruise Long Beach
If you're in Long Beach and you feel like cruising the high seas on St. Patrick's Day then a Part Cruise might be more your speed. Camp Xanadu is hosting a sunset cruise on the Long Beach Harbor on a triple-decker cruise ship with drinks, games, performers, Dj's, Yoga and Food. 1046 Queens Hwy Long Beach, California 90802
Angel City Brewery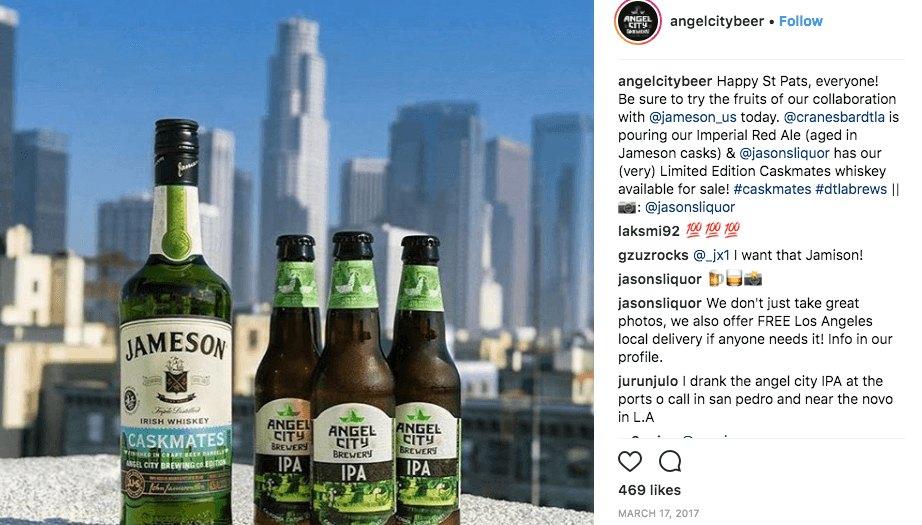 Angel City Brewery is throwing an St. Patrick's Day celebration where you can get Corned beef tacos from Downtown taco Co, Irish Coffee Stout, listen to Irish songs, and live performances by special musical guests. The music stops at 7pm, but the drinks keep pouring until 2 am.
Bars and Pubs
The following Bars and Pubs are the best of the best when it comes to celebrating St. Patricks Day in Long Beach or Los Angeles. You can always find a nice Irish beer and foods at these establishments!
1.) The Auld Dubliner
71 Pine Ave, Long Beach, CA 90802
2.) Shenanigans Irish Pub
423 Shoreline Village Drive a, Long Beach, CA 90802
3.) Clancy's Irish Pub
803 E Broadway, Long Beach, CA 90802
4.) K.C Branaghan's
5734 E 2nd St, Long Beach, CA 90803
5.) The Red Leprechaun
4000 E Anaheim St, Long Beach, CA 90804
6.) Dublin's Irish Whiskey Pub
815 W 7th St, Los Angeles, CA 90017
7.) Tom Bergin's
840 S Fairfax Ave, Los Angeles, CA 90036
8.) Molly Malone's Irish Pub
575 S Fairfax Ave, Los Angeles, CA 90036
Bar Crawls
Saint Patrick's Day Hollywood Pub Crawl
If you want to run around Hollywood Boulevard and enjoy some of Hollywood's best bars on St. Patrick's Day then the Hollywood Pub Crawl is the event for you. There will be drink specials from 11 am to 10 pm and you get a "welcome shot" when you arrive. Event Info
Santa Monica St. Paddy's Day Pub Crawl
This pub crawl is similar to the Hollywood Event, but with more drink specials. At the start of the crawl, you will receive a map of all the local bars that have the best Green Beer drink specials. All bars will be within walking distance of one another in Santa Monica. Event Info
Downtown Alhambra Pub Crawl
Back for its 9th year is the Pub Crawl in Downtown Alhambra. Starting at Ohana Brewing Co. this Pub Crawl goes through eight bars through the night. The best part is that the event is free and you only need to cover the cost of your drinks and food. It starts at 5 pm and goes through the night. Event Info
Restaurants
Whale and Ale
At the Whale and Ale, you can enjoy Corned Beef, Guinness, Fish & Chips, Shepherd's Pie, Irish Whiskeys or Irish Coffee, live music & many more treats.
Ye Olde King's Head
If you like Corned Beef and Cabbage Ye Olde King's Head will have that plus a DJ, Bagpiper and Green Beer.
Molly Malone's Irish Pub
At Molly Malone's you can always walk in and find some traditional Irish cuisine and St. Patrick's Day is no different. Come to Molly's for some nice corned beef sandwiches and O'Brien Fries.
Timmy Nolan's Tavern & Grill
Timmy Nolan's is located just outside of Los Angeles, but if you want some traditional Irish grub then this tavern and grill is the place for you this St Patrick's Day.
Parades and Events
Hermosa Beach St. Patrick's Day Parade
Over 100 local business are showing up to celebrate St. Patrick's Day at the Hermosa Beach Parade. The Parade will go 7 blocks down Pier Avenue. Event Info
Redondo Beach St. Patrick's Day 5k and the Rockin' Shamrock 5k
If running is more your style then these two 5k runs are happening on St Patrick's Day as well. One in Redondo Beach and the other in Van Nuys.
Conclusion
Remember that St. Patrick's Day should be a safe holiday. Please be safe and do not drive drunk. Always make sure you have a designated driver and if you don't, do yourself a favor a download the RideYellow app.