Facebook PageThe Los Angeles LGBT Center's Los Angeles Women's Network and Young Professionals Council is hosting the annual summer outdoor film screening, Out Under The Stars, at the Hollywood Forever Cemetery.
There will be two screenings, one in June and one in August. On June 23rd there will be a showing of What Ever Happened To Baby Jane and on August 11th there will be a showing of Clue.
For the Clue showing over 1,000 tickets have been sold. If you want free tickets click here.
Attendees can come early to relax and picnic while enjoying a live DJ, free swag and more. The doors open at 7 pm and the show starts at 8:30 pm.
Getting to the Hollywood Forever Cemetery
There are multiple ways to get to the Hollywood Forever Cemetery, but because of its iconic location, parking is a challenge. Fortunately, limited amounts of parking can be purchased on their website for $10.
However, if parking is not an option the Hollywood Forever Cemetery has partnered with the RideYellow app to conveniently drop attendees off inside the cemetery near the screening lawn.
RideYellow is a Los Angeles based taxi app that allows you to order and pay for a taxi in multiple ways. As a special promotion, for attendees of Out Under The Stars, RideYellow is offering $15 off a riders' 1st ride in the app with the code "HELLOLA".
If you can't get a parking pass or don't want to walk through the cemetery, to get to the screening lawn, then you can utilize RideYellow to get dropped off near the screen. Additionally, after the movie is over, vehicles will be outside the Cathedral to take you home.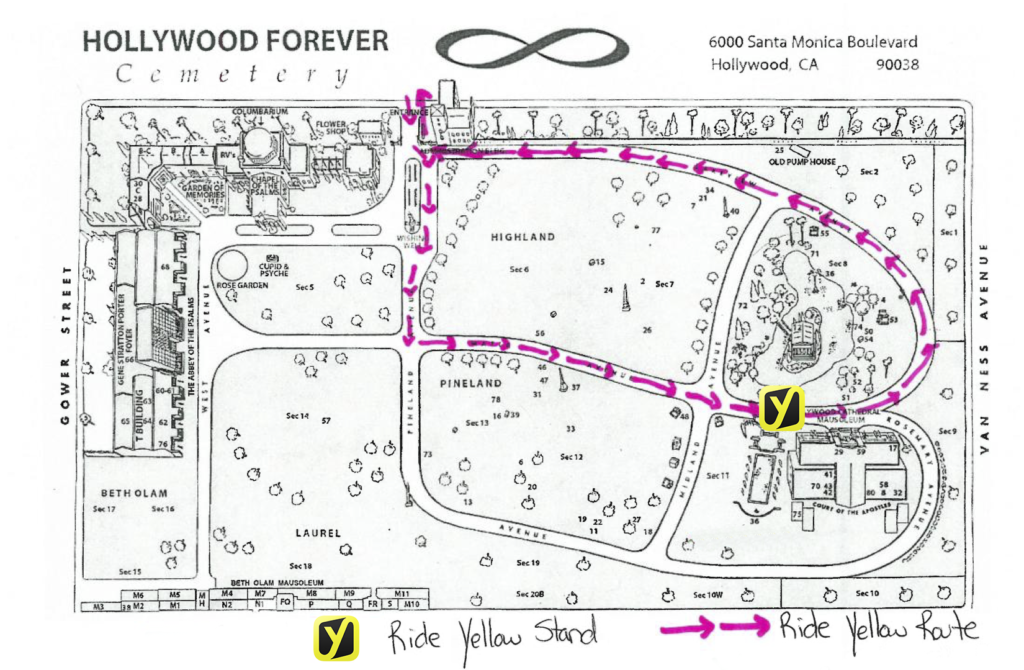 Supporting the Los Angeles LGBT Center
All proceeds from the screening go directly to benefiting the programs and services at the Los Angeles LGBT Center. Not only will attendees get to watch some good horror flicks in a cemetery, but attendees will also support a great cause.
Each month the center welcomes over 42,000 visitors and helps provide a range of services and programs for Health, Social Services and Housing, Culture and Education, Leadership and Advocacy.
The Hollywood Forever Cemetery
The Hollywood Forever Cemetery is an iconic Los Angeles landmark because it is the final resting place for more of Hollywood's founders and starts than anywhere else on earth.
Additionally, the cemetery is listed on the National Registry of Historic Sites. People flock from all over the world to pay respects to the hundreds of Hollywood's greatest stars that are buried at the cemetery.
Get your tickets
Tickets can be bought through the Hollywood Forever Cemetery's Ticketfly site.
General Admission goes for $25 and will get you access to the lawn, to see the movie at 7pm.
The VIP package (for two) goes for $150 and includes early entrance to the venue at 6:30pm, a parking pass, reserved seating, and a picnic basket filled with a bottle of wine and food pairings.
Want free tickets?
RideYellow is giving away  4 General Admission tickets to the screening! If you want to enter to win a pass then you can enter on our Facebook Page.
If you are going to the screening, be sure to stop by the RideYellow booth where you can get free swag and learn about the app!