Long Beach is home to beautiful beaches, iconic landmarks and one of the largest Gay Pride celebrations in the nation. Drawing in over 80,000 people to the city, Long Beach Pride Weekend is one of the most popular events in Long Beach.
As one of the sponsors of Long Beach Pride we were lucky enough to snag some extra tickets to giveaway to our app users. So here is your chance to win 2 weekend tickets for you and your best friend to party the night away.
How to win the tickets
We have made it extremely easy to enter too. Simply go into the RideYellow app, enter the promo code "PRIDE" and take a ride wherever you want to.
Each trip you take with the "PRIDE" promo code from May 11th to May15th will count as one entry. In order to use the "PRIDE" promo code you must pay with a stored credit card in the app.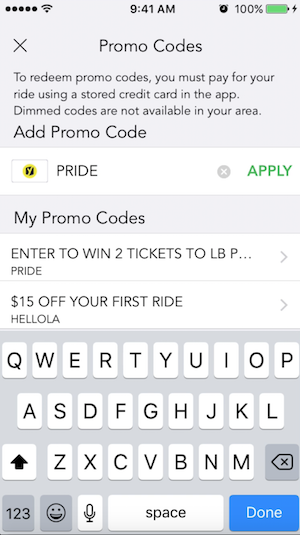 Everything you need to know about Long Beach Pride Weekend
Pride weekend includes a parade and a big festival over the weekend of May 20th to May 21st at the Marina Green along East Shoreline Drive (heres a map).
The Parade is on May 21st at 9:30am and boasts over 200 floats. Starting at Ocean and Lindero Ave and goes to the Alamitos Blvd, near the festival grounds. Throughout the parade route there will be many spots where you can celebrate with interactive crowd games and high energy music.
The Festival is on May 20th and May 21st from 11am – 10pm and has 5 different music stages: the Fiesta Caliente Stage, Country Stage, Dance Stage, Urban Soul Stage and the Main Stage. Each stage has a different list of artists and genres.
Not only will the festival have music, but it also has a family fun zone, food vendors and headliner acts. You can choose from 3 entrances: one on Ocean Blvd, another at the Shoreline Village and another off Linden Ave. There is no re-entry this year so don't plan on leaving until you are all partied out.
If you want to participate in the contest and you haven't downloaded to RideYellow App yet be sure to do so. See you at Long Beach Pride!